The Norwegian Elkhound is bold and energetic, an effective guardian yet normally friendly, with great dignity and independence of character. A typical northern dog of medium size and substance, square in profile. The head is broad with prick ears, and the tail is tightly curled and carried over the back. The distinctive gray coat is dense and smooth lying. As a hunter, the Norwegian Elkhound has the courage, agility and stamina to hold moose and other big game at bay by barking and dodging attack, and the endurance to track for long hours in all weather over rough and varied terrain. They thrive on companionship and will prove to be a lifelong loyal friend.
Here is Abbie at 9 weeks old, enjoying her sunbathing time. She is so full of energy, but you pick her up and she melts in your arms. A wonderful little girl!
The next four photos are of Abbie at 5 months old, experiencing her first real snow. She loves it!
Wow, look at all this snow!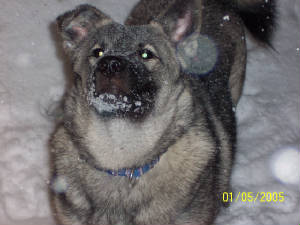 Hey, I think it is coming from up there!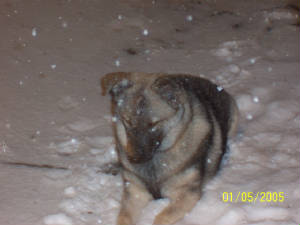 Shh, I am counting snowflakes....101, 102, 103...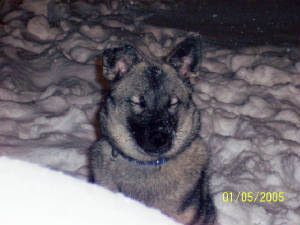 Man, this is worse than counting sheep.. zzzzz!
*****************************************************************************************
Here is Abbie's mom. She has wonderful movement, attitude and expression.
Here is Abbie's sire. His name is Thor and he is the one closest in this photo. Beautiful dog! That is his brother standing behind him.